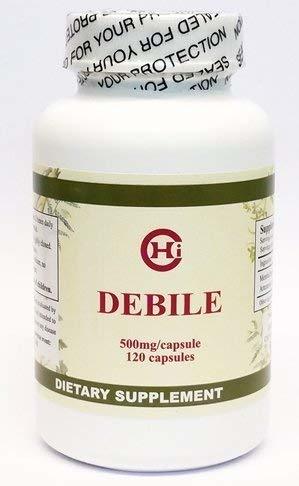 Gallstones form when the liver produces excess bile, the bile is stored in the gallbladder. As the bile ducts get more and more concentrated, it crystallizes, forming stones. Parasites, bacteria and virus can also affect that area and accelerate crystallization. In the US about 20 million people are estimated to have gallstones. Women are 6 times more likely to develop them due to hormonal fluctuations. Cholesterol stones are the most common, but there are also pigment stones (formed by crystallization of calcium bilirubinate) and mixed stones associated with hemolytic disorders and infections. Even if gallbladder is removed, cholesterol gallstones can form in the main bile duct in the liver. DEBILE is safe to use and recommended for people without gallbladders as well. Adult Dose: Cleansing and Maintenance - 1 capsule three times a day - 15-30 minutes after meals - 20 days (1 bottle). For acute dose: 2 capsules 2 times a day after meals for 30 days. Liver Chi is also recommended - 1 pack per day for two months. Note: We recommend that you use the natural laxative Super II daily if the bowels are not moving or are sluggish. There is a chance that one may feel nauseous the first few days (normal for some people) as the stones change and are dissolving. 120 capsules per bottle. Ingredients: Metha haplocalyx - 750 mg, Artemisia capillaris - 750 mg.
Showing 1-1 of 1 Review
Lucinda Schersing
11/21/2018
Seems to be working. The pain is gone. I have just started the regimen however, I am sure it is going to be well worth the time.