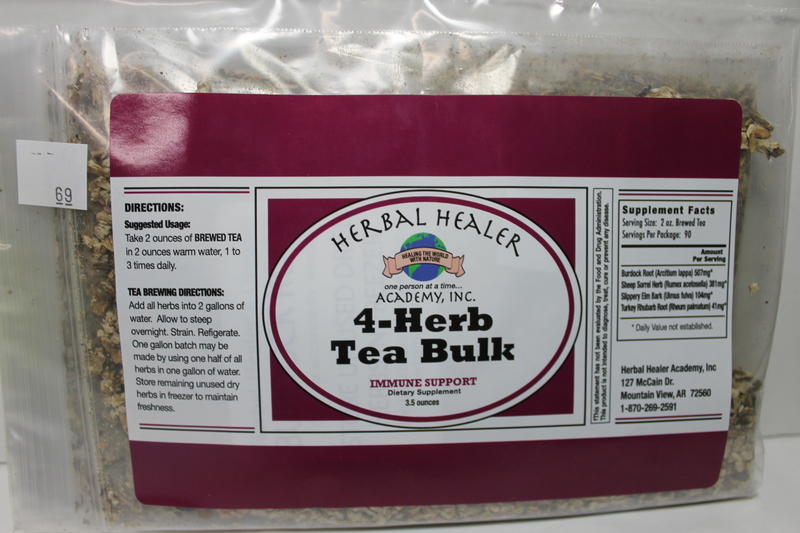 HHA 4-Herb Bulk
HHA
Bulk Rates Available
Buy 3 - 5 and pay only $20.00 each
Buy 6 or more and pay only $18.00 each
Ingredients: Burdock Root, Sheep Sorrel, Slippery Elm Bark & Turkey Rhubarb. Herbs are measured in the correct proportions to the specifications given in the Rene Caisse recipe. Organically grown in the United States. HHA 4-Herb formula has NO imported herbs!
Do not substitute the concentrate formula for the original brew.
Pets
: HHA 4-HERB TEA Can be used on dogs and cats to supplement their diet and to aid in the pet's recovery from surgery or trauma. This is a liver support and helps blood and immune system. The best way to give this to a dog or cat is to put it in 1/4 cup beef or chicken broth. 1 teaspoon per 10 pounds - 3 times daily or you can put 3 teaspoons per 10 pounds' body weight in the drinking water once per day. Change daily. Preparation instructions sent with product. Each package makes 2 gallons. Recipe can be cut in half to make lesser amount. If you have some left over when making this for your pet, take it yourself, you will not believe how much better you will feel. Always use purified water. Make sure all your pets are fed in non-toxic bowls and the water you give them is purified. Consult with your healthcare provider before taking this supplement if you are on medication. The herbal formula developed by Rene Caisse back in the 20's is a simple herbal remedy for nutritional supplementation. The formula is made up of 4 herbs that are primary Alterative (blood support), Hepatic (helps cleanse the liver naturally), and supports the body's normal healthy ability to sooth temporary irritations and normal inflammation due to strenuous activity. The main ingredient, Burdock Root is Known to help normal blood circulation. It can support liver function helping a healthy liver eliminate toxic compound build-ups. HHA 4-HERB Tea supplements the liver and other vital organs with nutrients. For instance, Burdock Root powder may contain Chromium, Iron, Magnesium, Silicon and Thiamine as well as nutrients such as Niacin, Riboflavin, Vitamin A and Vitamin C to name a few. WHY IS THE HERBAL FORMULA THICK? This formula is thick because of the Slippery Elm Bark. This herb is a micoprotective and creates a slimy consistency once reconstituted. This is especially helpful when supplementing tissue and stomach nutritional needs. Some people have reported taking the sludge that is left after filtering, and using it like a poultice on the surface of the skin. CAN THIS FORMULA BE TAKEN WITH MEDICATION? We recommend you consult your healthcare provider. I can tell you that I have numerous reports of people enjoying our HHA-4 Herb Tea. ARE THERE ANY NEGATIVE SIDE EFFECTS? We have no serious adverse event reports to-date. sometimes, if a person is very sensitive, a temporary minor headache may be experienced. you may be dehydrated. always keep bowels moving and drink plenty of fluids to help naturally cleanse your body. ESSIAC has helped so many people, and a host pets!!!
**The Herbal Healer Academy makes no medical or healing claims about this 4 Herb formula and it has not been approved by the FDA. We can assure you that the herbs are the correct proportions to the specifications given in the Rene Caisse recipe. We can also assure you that the herbs are true to their names and no other herbs have been substituted. These herbs are all organic and prepared by healing arts people. We have many case history testimonials that verify the potency of the herbs we use in our generic formula. Our research has shown this herbal formula has proven safe and effective when taken with chemotherapy treatments but we do recommend that you consult your doctor.**
Showing 1-5 of 43 Reviews
Unknown
12/17/2019
This product is amazing
Marilyn T Daniels
11/28/2019
I have been taking this tea since 2001 and believe it has greatly enhanced my life inasmuch as I am now 83 and healthy. All original body parts intact.
Tommy Johnson
11/27/2019
I have been buying it from Herbal Healer for 20 years and am completely healthy! Taste good but well worth the trouble to make it.
I have tried other Essic Teas products and find th
Frances Zambrano
11/18/2019
I have been making the tea for myself for about 10 years. It helps me with my health and I strongly believe it has prevented me from cancer and other health problems.
Natalia Belokonova
11/15/2019
i like the quality of herbs and the way it comes in measured packages with easy to follow instruction. I helps me to detox my body in gentle way.