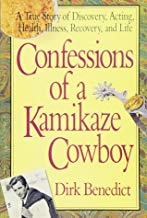 Confessions of a Kamikaze Cowboy
The best-selling memoir Confessions of a Kamikaze Cowboy tells the fascinating story of actor Dirk Benedict's journey from the big sky country of Montana to the hustle and hype of Hollywood. It also describes his odyssey of self-discovery and growth as he changes from struggling actor to celebrity, from meat eater to vegetarian, from cancer victim to cancer victor. Brilliantly written―insightful, witty, and always challenging―Confessions of a Kamikaze Cowboy may change the way you perceive actors, and even make you reconsider the truths in your own life.
by Benedict (pb Book) - Book available for purchase at 50% its normal price (price shown is with the 50% discount).