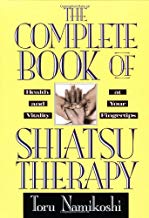 Complete Book of Shiatsu Therap
The Science of Shiatsu
In this compact, exhaustive, scientifically oriented text and guidebook, Toru Namikoshi for once and all discredits erroneous interpretations that confuse shiatsu therapy with traditional Japanese amma massage or categorize it as limited within the framework of ancient oriental medical thought and unrelated to modern medical science. By proving that shiatsu rests firmly on a medical scientific basis and on thorough physiological and somatological understanding, he sets it completely apart from the many superficial health regimens currently popular in many parts of the world.
by Namikoshi nl (pb Book) - Book available for purchase at 50% its normal price (price shown is with the 50% discount).